With the rise of identity theft, many of our customers have asked about a secure way to destroy documents with sensitive & confidential information on them.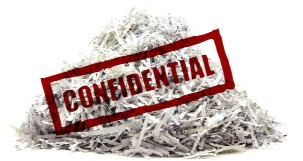 Recycle For Breast Cancer is now offering confidential destruction and paper shredding services for business and residential customers. We offer the most affordable pricing for shredding while being the most secure and committed to providing outstanding customer service. Treat your trash and mail carefully! To thwart an identity thief who may pick through your trash or recycling bins to capture your personal information, always shred your charge receipts, copies of credit applications, insurance forms, physician statements, checks and bank statements, expired charge cards that you're discarding, and credit offers you get in the mail.
Our destruction process has been under the scrutiny and walkthroughs from various departments from the U.S. Federal Government, State of California, and Bay Area County Services, as well as Hospitals and various Legal Institutions. The property of the plant is enclosed by chain link fence topped with barbed wire. All of the metal rolling doors are securely locked by a prearranged time each work day until the shredding is complete for the night.

The processor is a fully liability insured company and also carries additional insurance to cover the

handling of confidential material in regards to compliancy of HIPPA, (Health Insurance Portability & Accountability Act of 1996) as well as GLBA (Gramm-Leach-Baily Act of 1999).
The Process: From our locked containers, your documents go strait into an industrial, high speed, high volume shredder in a secure gated facility containing an advanced alarm system and 9 camera recording systems. (All employees are background checked and wear identification cards)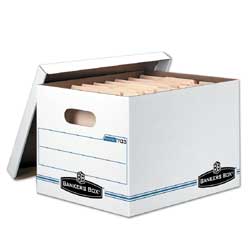 The shredded material is then mixed with thousands of pounds of shredded paper from other sources, baled, and securely shipped directly to a local mill for pulping and recycling.

A certificate of destruction can be issued that guarantees the destruction and confidentiality of your documents.
We offer four types of programs for the retrieval of your sensitive documents: One Time Pickup, On Call Basis, Regular Scheduled Service & Self Drop-Off
Prices starting as low as $10.00 Call for details 800-315-9580