Request a Pre-Paid Shipping Label for your Laptop
By 2004, it's predicted that over 300 million outdated computers will fill basements, attics, closets, and storerooms across the country. Even worse, computer equipment is being thrown away in dumpsters where they eventually end up in landfills.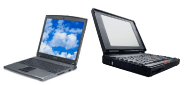 Fortunately, most computers can be recycled responsibly. RFBC's recycling program provides an easy way for everyone to recycle any brand of laptop.
Your laptop must meet the following guidelines to be
recycled through this program.
Must be equivalent to a Pentium I or higher

No dismantled or cannibalized equipment