Request a Pre-Paid Shipping Label for your Cell Phone
Please do not send manuals, car phones or wall phones. Do not send us any accessories that you may have purchased in addition to your phone such as car chargers or leather cases. Unfortunately we can not recycle these items.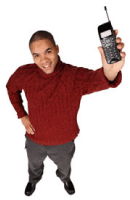 If you have a mixture of items (cell phones AND cartridges) go here
For a list of other items we accept please go here.